Boating Holidays on the waterways of France
Boating holidays in France. France boasts a greater variety and abundance of towns, cities and unspoilt countryside than most European countries, and running through this great tapestry, like a glistening thread are the many and varied inland waterways. They all have in common the ability to delight and surprise, providing an unspoilt rural view, a seemingly forgotten village or a new found friend.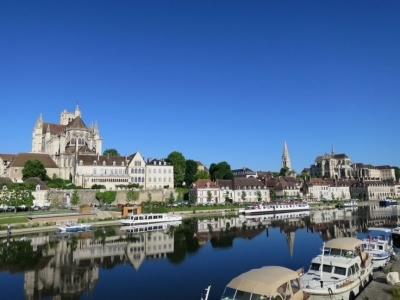 The regional variations in wine and food, are as rich as the landscapes and each bend in the canal provides a new opportunity to taste the local speciality in one of the nearby restaurants.
And after these indulgences, some gentle exercise of locking through, cycling along the traffic free towpath, or swimming in the clear waters of the river provides the perfect antidote for a guilty conscience!
From start to finish the operators strive to make your holiday the experience of a lifetime. They will spend time advising you on all aspects of the holiday including your travel arrangements and insurance. On arrival at the operating base, you will be warmly received and all the formalities will be efficiently dealt with and then once again they will give you all the help you need whilst demonstrating the handling and features of the boat, discussing the locality and its delights and specialities. Then when you are happy and confident, they will wave you off to discover for yourselves the wealth of sights and experiences that only France can offer you.
Sign up to our newsletter
Get all of the latest news and offers by signing up to our newsletter using the form opposite.